Dorcas Wepukhulu, reports from East Africa on her work with small groups of children at Kibera Library in Nairobi. One group wrote the stories and another created the illustrations. Together, the children created six books which have now been published on the African Storybook website. The stories reflect the children's lived experiences and some of the challenges that they had to negotiate in their day-to-day lives during the Covid-19 pandemic. Links to these stories are provided below.
While in the above instance, the writing and the drawing activities took place separately, in this article, Dorcas explores a number of ways in which story writing and illustration with young children can be facilitated. She provides some guidelines to help teachers and librarians to plan and implement collaborative writing and drawing activities with their learners/groups of children.
"Having the children who wrote the stories, illustrate their own storybooks is ideal, but it is not always possible to implement literacy projects in this way". Dorcas reflects that there are a number of different ways is in which one can design writing and image making activities as part of a school or a library literacy programme. She urges teachers to turn story writing and illustration into a collaborative activity for their children. "Start by finding out which children would like to write and which would like to draw. Then structure a creative activity in the which children can work together to create illustrated storybooks".
She, however, cautions that this sort teamwork is a process and requires several sessions and when the children are working in pairs on one drawing, the process needs even more careful planning and support. "It's important to keep refocussing the children's attention on the story that they are illustrating – sometimes their thoughts wonder and they start drawing something that does not relate to the story at all! "
Children need to be encouraged to express their own creativity, some lack confidence and want to rather copy pictures from existing books, it's very important to build their confidence and help them create their own drawings. Dorcas comments, "minutes after starting to work with the group of children that were making the drawing for the stories that the first group had written at the Kibera Library, I noticed one of the girls was frantically paging through a storybook called Little Miss Splendid. She asked, 'can I draw what is in this book?' I had to explain that we did not want to copy from other books, but rather to create our own drawings for the particular story that we were illustrating".
Dorcas reflects, "there is however no right or wrong way of approaching a writing and illustrating activity. Some children may want to start by drawing the pictures first and then talking about their images as part of the exercise to create a written story. Again, it's just a question of proper planning. As a teacher you can carefully prepare a set of lessons which commence with a discussion with the children about who will make which drawing and on agreeing to the sequence of the illustrations". She continues, saying, "teachers must find ways of encouraging and supporting their learners to express themselves, their thoughts and their feelings, whether through writing their own stories or making drawings of their lived reality or both.
Ask the children if they want to work in pairs or whether they would rather want to work alone. If they want to work in pairs, let them choose who they want to work with. The two photographs below are a lovely example of children working in pairs, carefully negotiating the use of the various different colours and taking turns to create the drawing together.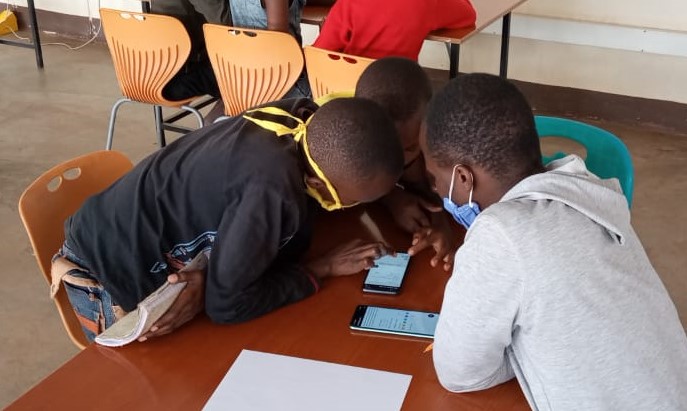 Learners collaborate to create illustrations for stories
Back at the Kibera Library, after the second group had created all the images to illustrate the six stories prepared by the children's writing group, a library studies student intern created and published the storybooks on the African Storybook website using the Maker App. You can read the Kibera Library children's stories using these links:
This process of telling their own stories and of depicting their own world illustrated in these storybooks has had a greater impact on both the teachers and children who were involved in this project. It is hoped that some of the ideas shared here will inspire teachers and librarians to implement this approach to teaching and learning literacy and that more children will have the opportunity to enjoy working creatively in classrooms and libraries across Africa.