Saide and its African Storybook Initiative join the nation in celebrating South African Library Week (14-20 March 2022). A special opportunity to celebrate and showcase our literary heritage.
Introduced in 2001 by the Library and Information Association of South Africa (LIASA) Library Week helps advance literacy and make the basic human right of freedom of access to information a reality.
To help "reimagine, repurpose and rediscover...libraries," public libraries in Saulsville and Atteridgeville outside Pretoria, use Saide's African Storybooks to promote reading and literacy in all 11 national languages. Every weekday after school, young people from these communities volunteer their time to read storybooks to the children.
Children select the stories and the readers animate the characters in the stories which helps the children to engage, remember and to retell the stories in their own words to others.
At Saulsville library, they have a dedicated reading room with a laptop, projector and a screen. These are used to project the African Storybook stories onto the screen for the children to read. Sometimes, just the storybook illustrations are projected onto the screen and the children are asked to tell make up their own stories an d to share them in which ever languages they are comfortable using.
Illustrations from stories like 'Chicken and Millipede' and 'A Very Tall Man', really help to stimulate the children's imaginations and they produce delightful stories of their own.
The reading sessions are facilitated by Sylvester, an employee of the Gauteng Provincial Library and Archival Services. He reads stories in three different languages, isiXhosa, Sepedi and isiZulu. After reading the stories Sylvester asks the children questions to check their understanding.
Children also take turns reading the stories and their friends ask them questions about the stories or even ask them to retell the stories. Sylvester commented that the library reading initiatives gives children the confidence to read and enjoy stories themselves.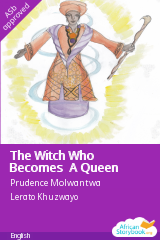 Children are also encouraged to write their own stories. The witch who becomes a queen is a story written by Prudence Molwantwa, a learner at the Walton James Primary school in Attridgeville. Her storybook was illustrated by Lerato Khuzwayo, one of the young volunteer readers in at the Atteridgeville library who is a visual artist and performance poet. This storybook, published on the African Storybook website, is a wonderful example of how the library space has been used to encourage creativity and collaboration.
While a number of retired teachers also engage in story-telling activities at the library on weekends and during school holidays, thus also promoting libraries not just as a place for children to do their homework and for quiet reading, but a space for creativity and enjoyment.